New Computer Labs Open at Kennedy Middle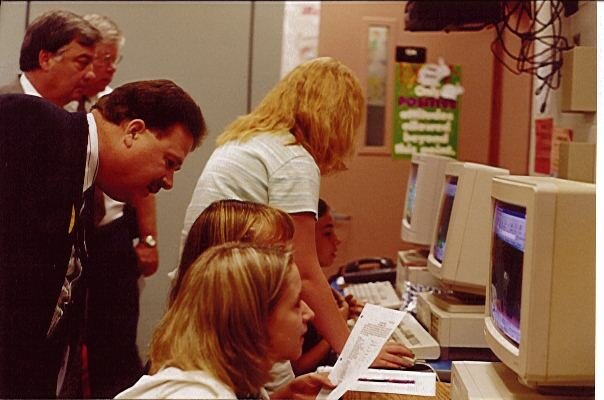 Gifted and Talented Education got a boost from a collaborative effort among Westinghouse Savannah River Co., the Department of Energy, GALEF, and Aiken Electric Coop this month when 2 new mini-labs opened in SOAR classrooms of Teachers Kim Hawley and Debbie King. Observing students are (from front to back), Dave Hepner (DOE), John Lindsay (WSRC), and Principal George Rogers. The DOE Site donated the computers in response to a proposal written by GALEF. Software for the labs will be furnished through the generosity of Aiken Electric Coop. The project was the idea of Aiken Electric's President, Gary Stooksbury, who saw an opportunity to enhance the technology skills of over 200 students each year.
GALEF To Launch Strategic Plan
This summer GALEF will engage the Aiken County community in a Strategic Plan for public school improvement. If interested to join the discussion, call GALEF at .
1999-2000 Grant Recipients!
Remember to Turn in Your
Evaluation Reports this Summer.
Can't find yours? - call .
Board Member Orientation Materials
If any Board Member needs new orientation materials, please call Diane at . New Board rosters will be issued soon!
Security Federal Supports Education
Thanks to Security Federal Bank, its employees and Board of Trustees, for a recent gift to GALEF in support of its education improvement agenda. Security Federal has been a major contributor through the Aiken 20/20 campaign and through the active participation of its employees on the GALEF Board.
Welcome New Board Members!
With its focus now county-wide, GALEF is pleased to welcome several new members to its Board of Directors: Beverly Clyburn, Art Graves, Vicky Meyer, Robert Stowell, Bryan Tucker, Paula Black, Videria Tarver, and Steve Carver. GALEF is honored also to have the support of the Area Superintendents as members ex-officio. The Board will continue its expansion over the next year to include representatives from across Aiken County.
Transitions
1999-2000 Chair Ted Mangelsdorf passed the gavel to the new Chairperson,

Cindy Besson, at the May Board of Directors meeting. Ted, who has provided outstandingleadership to the Board, will continue to stay an active and supportive member. Thank you, Ted and welcome, Cindy.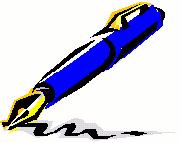 Write it Down
Success by 6 Grant Awarded to Aiken County
Aiken County's collaboration to prepare young children for success in school received a grant of $60,000 this month. GALEF's Executive Director, was recognized by United Way for chairing the grant writing committee. The funds will be used to improve child care, encourage prenatal care, and to help ensure sustainability of this important work in our community.