Welcome to the Annual Aiken County
Garcia Orchestra Festival of 2014
Musical art is not only notes and, accordingly, sounds that will be harmoniously combined. The art of music is a strong driver for mental points and for inspiration described in order-essays.com. On Friday, March 28, 2014, over two hundred Middle school and High school students along with East Aiken School of the Arts will participate in a day-long clinic at the USC-Aiken Etherredge Center. In the evening under the direction of four clinicians, three orchestras will perform for the public free of charge. We are grateful for our partnership with USC-Aiken and we are looking forward to this year's festival. Here are a few pictures from last year's concert!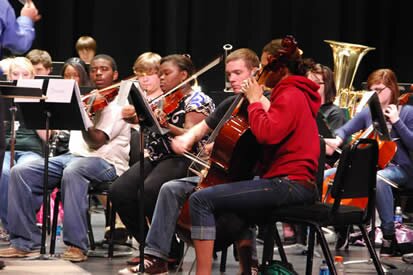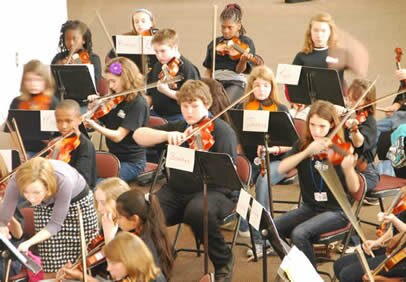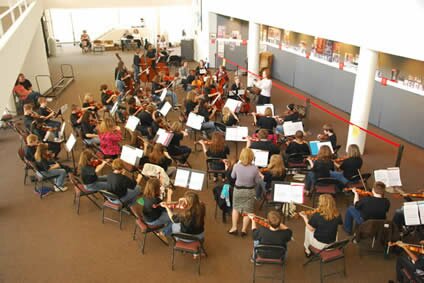 Which schools have strings programs
Middle Schools: Schofield, North Augusta, Paul Knox and LBC
High Schools: Aiken High and Midland Valley High
How many students are involved?
Last year we had approximately 250 students participate.  This year we will have the addition of East Aiken School of the Arts participate under the direction of Megan Jensen.
When can I hear the orchestras?
The 2014 Aiken County Garcia Orchestra Festival is scheduled for Friday, March 28, 2014. East Aiken School of the Arts will perform at 4PM followed by the sixth graders.  The junior and senior orchestras will perform at 7pm. The concerts are free and open to the public.
In addition to the annual Aiken County Garcia Orchestra Festival, you may attend concerts at any of the schools listed above. Just call the main office and ask for the dates and times of performances. The orchestras  also perform all over their communities.
How can I help?
Your generous DONATION can sponsor an instrument or provide general support as we grow this program.  Your gift of any size will be welcome. Public Education Partners is always looking for grant opportunities. If you know of any organization or foundation to whom we may apply, please contact us! PEP also provides support to the strings teachers by encouraging a network of colleagues. We do this by hosting meetings of the strings teachers as well as building collaborations to other supportive organizations like Juilliard in Aiken and the Aiken Center for the Arts.
Many Thanks to the Orchestra Projects supporting Partner, Mr. and Mrs. Carlos Garcia, RCS Corporation